Tribute | Terry Kath - guitarist and vocalist for the band Chicago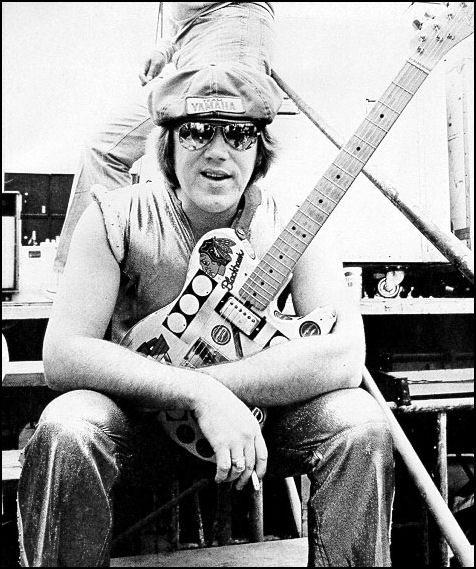 Terry Alan Kath ~ January 31, 1946 - January 23, 1978
Posted by: Chuck Miller May 26, 2014
I became a fan of the band Chicago in the early 1970's after I heard part of the band's second album Chicago played during a school music class. "25 or 6 to 4" was being played on the radio, but I was most drawn to the song cycle "Ballet for a Girl In Buchannon" which was composed of seven songs strung together without breaks between songs. Two songs in that suite "Make Me Smile" and "Colour My World", both sung by Kath, were my favorites on that record.
Hearing those songs led me to Chicago Transit Authority which was harder to like at first, but became one of my all time favorite albums over the years. Kath fittingly composed and sang the very first song "Introduction" on that first album. He was the driving force in the band in the early years. When Chicago played live, Kath was the charismatic front man, often introducing the songs and counting off the intros to the songs for band.
During his short life Terry Kath was under appreciated and often over looked among his contemporaries Jimi Hendrix, Eric Clapton, Jeff Beck, Jerry Garcia, Pete Townsend and Jimmy Page. But, he was as talented a guitar player and a better singer than most of them. There's also that story about the time Hendrix leaned over to Walter Parazaider, the multi-instrumentalist (woodwinds) player for Chicago, after watching Kath on stage to say, "Your guitar player is better than me."
Before Chicago morphed into a soft rock ballad band in the 1980's they were a bluesy and at times psychedelic rock band with distinctive horn arrangements. Kath's guitar playing both on rhythm and lead provided an edge to many of their songs that resonated with me. Early fans of the band, including me, lament Terry Kath's death in 1978 and many of us feel the Chicago we loved died along with him.
If you haven't heard any of Terry Kath's work with the band, do yourself a favor and seek out those first few albums and give them a listen. The essential stuff is on the first two double records. But, Kath shined on guitar and vocals on all the Chicago albums he played on.
I have included some listening recommendations, all albums by the band Chicago, that led to my appreciation of the talent of Terry Kath:
Chicago Transit Authority
"Introduction" written & sung by Terry Kath
- Noted for the different musical styles Kath could write, play and sing
"Beginnings" written by Robert Lamm
- Distinctive acoustic rhythm guitar work on this track
"Questions 67 and 68" written by Robert Lamm
- The psychedelic electric guitar solo that starts about 15 seconds into the studio version of the song and the shorter solo later in the song are amazing
"Free Form Guitar" written & performed by Terry Kath
- A Fender Stratocaster guitar plugged into a Bogen Challenger PA (pre-amp) and a Fender Showman amplifier with no effects pedals or re-takes
"I'm A Man" written by Steve Winwood and Jimmy Miller, sung by Terry Kath, Peter Cetera and Robert Lamm
- Blues vocals and wild guitar playing (especially the guitar solo that ends it) propel this cover version of the Spencer Davis Group song
Chicago
"Make Me Smile" written by James Pankow & sung by Terry Kath
- Expressive lead vocals and lead guitar playing
"West Virginia Fantasies" (instrumental) written by James Pankow
- Beautiful counterpoint guitar work
"Colour My World" written by James Pankow & sung by Terry Kath
- Expressive lead vocals
"25 or 6 to 4" written by Robert Lamm
- A blistering and notably long guitar solo for a 1970's pop song
"It Better End Soon" written by Robert Lamm, Terry Kath, Walter Parazaider & sung by Terry Kath
- Warm & wonderful lead vocals
Chicago III
"An Hour In the Shower" written and sung by Terry Kath
- Blues vocals and guitar
Chicago at Carnegie Hall
"In the Country" written and sung by Terry Kath
- Classic lead vocals and electric guitar playing
"Loneliness Is Just a Word" (2005 Rhino re-release) written by Robert Lamm and sung by Kerry Kath
- Vocals by Terry Kath
"South California Purples" (2005 Rhino re-release) written and sung by Robert Lamm
- Great improvised (wah-wah) guitar solo in the middle
Chicago V
"Dialogue (Part 1)" written by Robert Lamm & sung by Terry Kath and Peter Cetera
- Kath and Cetera have a vocal and instrumental (guitar and bass) dialogue
Chicago VIII
"Oh, Thank you Great Spirit" written & sung by Terry Kath
- Kath's haunting tribute to Jimi Hendrix
Learn more about Terry Kath on these web pages I have assembled:
Forgotten Hits Remembers Terry Kath
The Greatest Guitar Player Of All Time
Under Investigation: Terry Kath