etc... | Mulholland Drive (2001)
Written by: Chuck Miller
on September 11, 2013, and last updated October 25, 2021 by Chuck Miller

The purpose of this article is to provide an introduction to, and hopefully some guidance in understanding this complex and brilliant film.

Mulholland Drive is a "Love story in the city of dreams" as the director David Lynch put it. It plays out along side a cautionary tale exposing the practices and motivations that drive the Hollywood movie making industry. Everything in the movie relates back to one or both of those two narratives.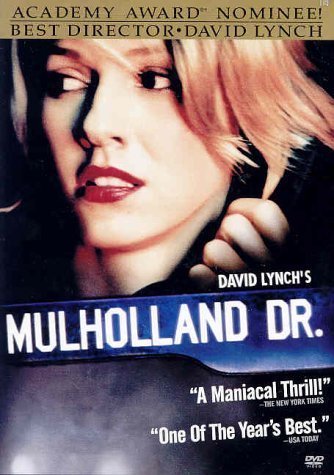 I first became aware of David Lynch's Mulholland Drive after learning Lynch was nominated for an Oscar in the Best Director (2001) category for it. I rented the DVD to watch at home, but I couldn't get all the way through it. I had previously seen Lynch's Blue Velvet. So, I knew it was going to be weird. But, the seemingly disconnected and random story line was more than I could assimilate at the time. It did leave an impression on me however as it was just beautiful to watch.
Later, I rented it again and watched the whole thing straight through. It was still somewhat incomprehensible to me. But, I was intrigued enough by the beauty of it to do some online research. I'm glad I did. I knew it had to make sense somehow. Now, after studying it and seeing it dozens of times, I acknowledge it as a modern day masterpiece.
Wikipedia describes Mulholland Drive as an American surrealist-noir film. It was originally filmed as a two hour pilot episode for a new CBS television series. The CBS executives didn't like what Lynch presented to them and rejected it. So, Lynch found some more money. He did more filming and editing, to wrap up some of the loose ends, and released it as a two hour and twenty-seven minute long feature film.
In the next section I will provide a few clues that will make the movie more enjoyable for confused or curious viewers. I will not focus on any specific details in this article. But, in an attempt to make it more comprehensible for new viewers I will give you some keys that will help you unlock it so it will make sense when you do see it. So, if you want to view this film for the first time and want to experience it as Lynch intended without any clues you will want to stop reading here.
Lynch presents the linear timeline of the story out of order to us. Which is quite confusing. It only makes sense after you have seen the complete movie, and even then you may need some help figuring it all out. Another thing you should know is that most of what is presented after the main character puts her head down on the pillow can be considered a dream, fantasy or possibly an hallucination. So, this movie shares a common basic structure with The Wizard Of Oz. In that most of The Wizard Of Oz is commonly viewed as a dream by Dorothy. Most of Mulholland Drive can be interpreted as a dream or hallucination generated by the protagonist who is played by blonde actress Naomi Watts. The leading characters in both films experience a highly emotional traumatic event and have a surrealistic dream that involves and distorts the motives of the people that were there when that event took place. In The Wizard of Oz we see the dream triggering event first. In Mulholland Drive we don't witness the catalyst for the dream until after the dream ends which is two-thirds of the way through the movie.
Now, to be honest, this dream explanation is really just one theory. Because some reviewers reject this dream theory outright and have convincing arguments against it. I can enjoy the movie regardless of how the main section is interpreted, but find it easier to watch with the dream theory in my mind. I will refer to this main section of the movie in the rest of the article as a dream to make it easier to discuss.
In the dream Naomi Watts character meets a dark haired woman who has been through an amnesia producing traumatic event. The two women quickly become sleuths and set off on a quest to find out her identity. Some strange things happen along the way which recall Dorothy's trip along the yellow brick road in The Wizard Of Oz.
The dream... It's bizarre and disjointed. When watching for the first or even second time, I suggest letting the strange scenes wash over you. Experience and enjoy them as if they are a dream. Those strange happenings do have great significance and meaning. But, I suggest viewing and enjoying them for the intoxicating quality and sometimes comical relief they provide. Don't focus too closely on them the first time you see the film as they can derail your logical understanding of the movie. But, those scenes do make the movie well worth watching repeatedly to gain new insights into what may really be happening.
After the dream is over we are shown the real world of the dreamer and the events that sparked the bizarre dream in the first place. Lynch cleverly uses the same foreboding music and shots of street signs we saw in the beginning of the dream sequence to show us what did happened to her on Mulholland Drive. Also, as we've seen at the beginning and end of The Wizard Of Oz the main characters from the dream have a basis in reality. Though in Mulholland Drive reality is harsher and the story doesn't end as happily for the dreamer.
Mulholland Drive, in my opinion, is David Lynch's masterpiece. He won the Best Director Award at the 2001 Cannes Film Festival for it. He was nominated along with other world renowned directors Robert Altman, Peter Jackson, Ridley Scott and Ron Howard for the 2001 Academy Awards Best Director award. Hollywood favorite Ron Howard won the Oscar that year for A Beautiful Mind.
Maybe because he initially filmed it as a 2 hour long TV pilot for mass consumption and re-worked it into a full length feature film later he didn't get as bogged down in the impermeable eccentricity that hampered Blue Velvet, Fire Walk With Me and Lost Highway before it. But, for me it doesn't matter how he got there, the final result is one of the most mesmerizing and intoxicating movies I have ever seen.
The acting is superb throughout. I am amazed at the physical transformation Naomi Watts makes between the dream and reality sequences in the movie. Former Miss USA (1985) Laura Elena Harring is a voluptuous raven haired goddess, dressed in red and black. Justin Theroux, channels David Lynch as a tortured director in the dream and reality scenes. Ann Miller and appearances by Robert Forester, Patrick Fischler and Billy Ray Cyrus bring a unique and light hearted quality to the scenes they are in. The soundtrack by Angelo Badalamenti enhances the visuals beautifully. This movie is just amazing.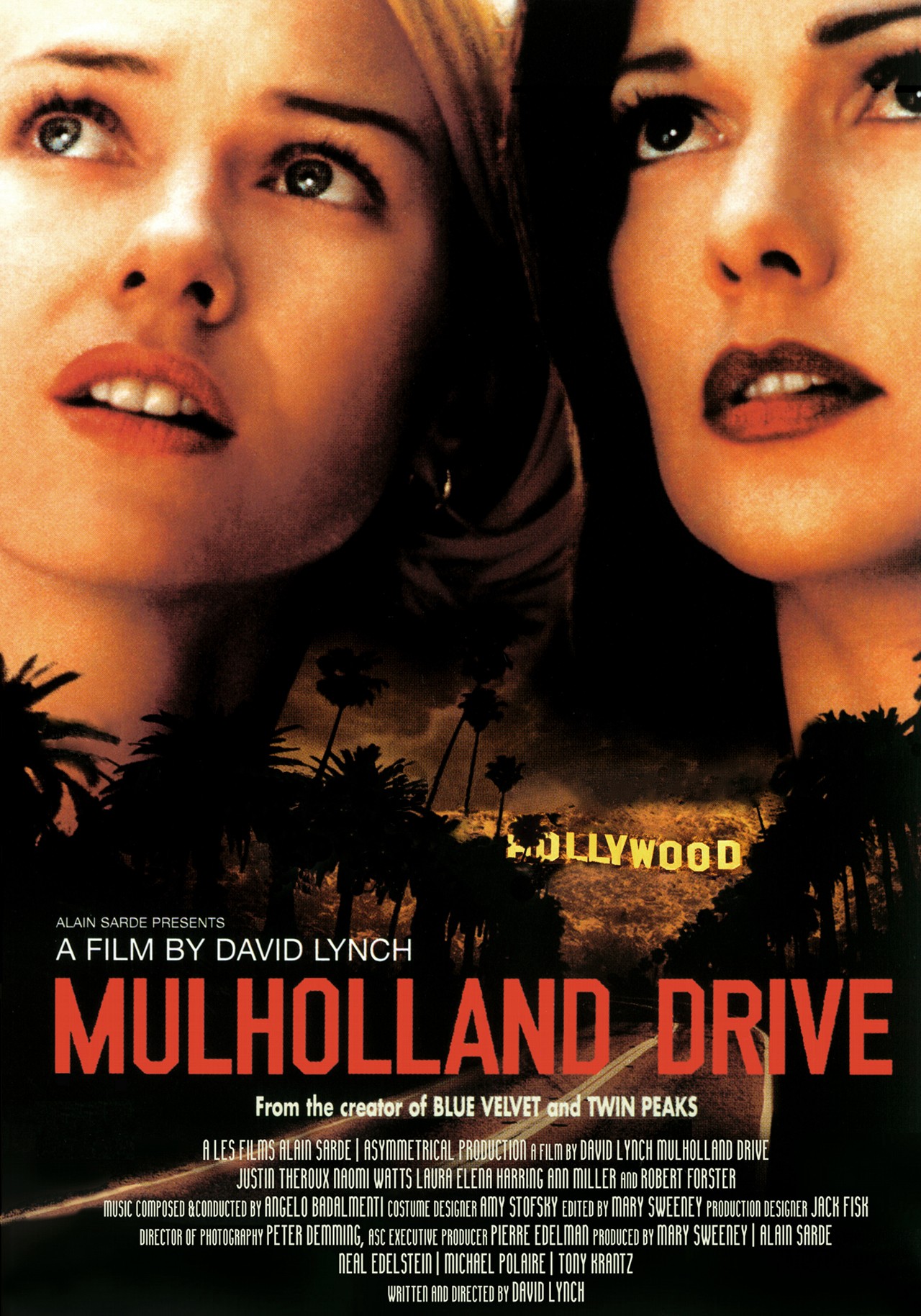 There is much discussion online about the fine details of this movie including how it ends. Most everything including the plot, symbolism & script have been scrutinized in great detail. But, for me, it's all up for individual interpretation. I haven't read an analysis yet that accounts for every detail and makes complete sense. But, that's why I consider it a masterpiece. The interpretation of this work is only limited by your imagination.
Of course as with any David Lynch movie, there is heavy use of color symbolism, doppelgangers, very strange characters and cryptic images sprinkled throughout. Don't let those things distract you. This movie really does make sense if you let it. It took multiple viewings and some research for me to see and understand the virtues of the film. Every time I see it now, I find something different to like about it. This is definitely a movie that rewards multiple viewings and research between viewings.
As you can see below, there is no shortage of information and interpretations of this movie. I have included links to some of the better articles and web pages that delve deep into the details and symbolism. Some reviewers present very good theories (even broken down scene by scene in one case) about how they interpret the meaning of film.
I suggest visiting these sites only after you have seen the movie.
General information about the movie:
Universal Studios Entertainment - Mulholland Drive
- Official movie web site
Studio Canal - Mulholland Drive
- Official movie web site
Wikipedia - Mulholland Drive (film)
- Wikipedia page
- This has a very good detailed plot summary, and some behind the scenes discussion
IMDB - Mulholland Drive (2001)
Internet Movie DataBase page
- This includes the full cast list, plot summery and synopsis and some user reviews
Rotten Tomatoes - Mulholland Drive (2001)
- Includes information about the movie and cast
Wiki Quote - Mulholland Drive (film)
- Selected quotes from the movie
- credits for the movie
For more detailed analysis:
Lost on Mulholland Dr. If you are looking for a place to look closer and talk further about Mulholland Dr. - you found it.
- And they mean it! This site has an extraordinary amount of detailed information about the movie. Including scene by scene analysis and a collection of nearly every possible theory on what it all means. This may be the best and most thorough site of them all for cracking the cryptic parts of the film.
A Multi-Layered Analysis of Mulholland Dr.
- Alan Shaw's scene by scene analysis
Salon.com - Mulholland Drive Analysis - Everything you were afraid to ask about "Mulholland Drive"
- October 23, 2001 article
- Has a middle of the road perspective that makes sense and is easy to accept
Roger Ebert - Mulholland Drive
- October 12, 2001 review
Roger Ebert - Lost on 'Mulholland Drive"
- April 16, 2002 (after in depth analysis of the film at the University of Colorado - Boulder)
Rolling Stone - Mulholland Drive
- Peter Traver's October 19, 2001 review
The New York Times - Mulholland Drive (2001)
- Stephen Holden's October 6, 2001 review
Can you explain the movie Mulholland Drive to me
Some good discussion
Mysteries Of Cinema - Unpuzzling Onscreen Enigmas - The Cowboy, the Monster, and Opening the Blue Box in Mulholland Drive
- May 17, 2009 article
- More interesting ideas
Film Noir of the Week Mulholland Dr. (2001)
- Eddie Muller's October 24, 2001 article
- A very clearly written synopsis and examination of the film
Dream Layer: Interpreting David Lynch's Masterpiece "Mulholland Drive"
- Billy's Journal 65 Blog May 18, 2011 blog entry
- This blog has some very interesting ideas
Thoughts On Stuff - Mulholland Drive: Some Analysis
- Patrick Meaney's April 11, 2004 blog entry
Reel Reviews - Mulholland Drive Plot Explanation & Analysis
- Frank Wilkins May 7, 2010 review
- This is another essay with an interesting theory and has the logical sequence of events
WHATCULTURE! - 5 Theories That Help Explain David Lynch's Mulholland Drive
- May 29, 2012 article
- This site has some good stuff
- Robert Sinnerbrink's June 23, 2005 philosophical article
Mulholland Drive - A Love story in the city of dreams (Lynch)
- Chemnitz July 10, 2003
The Guardian - Nice film - if you can get it
- Interviews by Robyn Lewis January 17 ,2002
Haunted by Seriality: The Formal Uncanny of Mulholland Drive
- Jason Mittell's January 13, 2003 discussion
Cinecatic - Scene Analysis: "Mulholland Dr." (2001)
- February 26, 2013 blog entry
Reverse Shot - This Magic Moment
- Michael Joshua Rowin on Mulholland Drive
Movie Review: Mulholland Drive
- Eric D. Snider's review October 19, 2001
AboutLynch.com - Cannes 2001 Review: On the Road Again: David Does The City Of Angels
- Mark Peranson's May 18, 2001 article
Slant Magazine - Mulholland Drive
- Ed Gonzalez September 26, 2001 review
The Movie Spoiler - Mulholland Drive
- Taller94's spoiler
Mulholland Drive: Explained Simply (With Character Map)
- This Is Barry web site - Barry's interpretation of the film
Why Mulholland Drive is the greatest film since 2000
- BBC Culture - by Luke Buckmaster
'Mulholland Drive' Is Still David Lynch's Crowning Achievement
The Ringer - Adam Nayman
Interpreting David Lynch's 'Mulholland Drive' (2001)
- Jakob Zaaiman's 20th anniversary article on medium.com
Additional information:
- Lyrics to the song "Crying" by Roy Orbison
- Lyrics to the song from The Wizard Of Oz by Israel Kamakawiwo'ole
Lynchnet - Mulholland Drive Pilot - The Screenplay
- Mulholland Drive script page
- A website that hosts art produced by David Lynch
- David Lynch's official website
- Laura Harring's official website
- Naomi Watts official website
Google Images - Mulholland Drive film
- Images from Mulholland Drive
David Lynch's 10 Clues to Unlocking This Thriller
- Some say this is a red herring, but I find it useful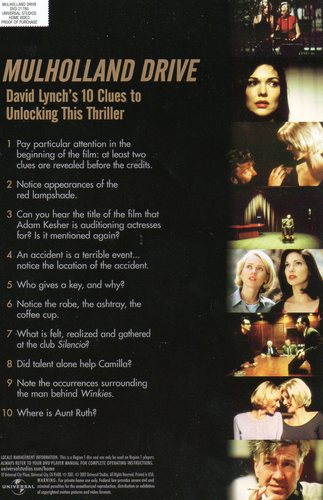 My collected notes (reality vs. dream) on the movie:

Chuck Miller's notes on Mulholland Drive
© time between the notes... 2012-2021 All rights reserved.