Home | 2022 blog entries
I'm Chuck Miller. Welcome to my live music recording and guitar gear information site and blog. Recording live music performances is my passion. Here you will find links to live music recordings and information about recording live music. You'll also find some DIY projects, reviews of concerts information on guitars and guitar gear, albums, as well as concert posters, tickets, art and photographs and links to some of the recordings I've made of bands over the years.
Many of the recordings I make are with just a stereo pair of microphones located in the audience section of the venue. Occasionally, I'll arrange to get a soundboard feed to mix in with the microphones to make a blended (matrix) recording. This technique takes advantage of mixing a time adjusted, usually dry PA feed with stereo microphones that capture the PA and the audience at the same time. Those are some of my favorite recordings. If all the elements cooperate the results can be very nice.
I don't record bands covertly. Every recording I share here was made with the permission of the band and is available for free download and streaming. I follow the concert tapers code of conduct which means the bands allow me to record their live performances as long as I don't profit from it and I share the recordings freely.
Since the global pandemic hit in 2020, I've also started to discuss guitars and guitar gear, since live music events have sadly all but disappeared.
If you have questions or concerns please contact me. My info is available on the Contact page.


It's a brand new year and the start of my tenth year producing this live music recording & guitar info blog...
Posted originally January 13, 2022, and last updated January 15, 2022 by Chuck Miller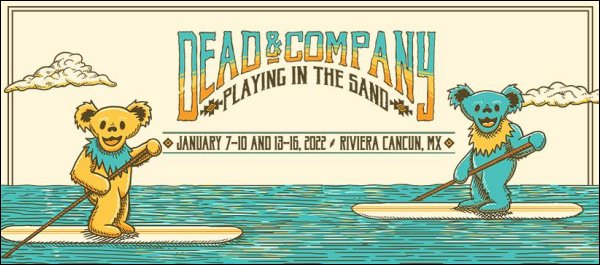 2022 is not off to a great start with one of the first music festivals of the year, Playing In the Sand headlined by Dead & Company, being cancelled abruptly. Reports are that as some people were on planes, flying to the venue in Cancun, Mexico, the concert organizers cancelled the event. Singer and guitarist John Mayer tested positive and couldn't participate, and drummer Bill Kreutzmann backed out over his own health concerns. That's very disappointing for the band and fans. Hopefully the event will be rescheduled.
I've been slowly getting better at playing the guitar since the pandemic started. I feel like I'm getting back to the playing level I was at in my teens and 20's. I'm also learning more about music theory than I did when I was younger, though I have to admit I still like working on guitars and the associated gear more than I enjoy playing.
I'm still buying inexpensive guitars and fixing them up, but I'm getting much more selective about what I buy. Until recently, I considered it a learning experience to repair and re-sell them. This year, I'm hoping to start making some money for my efforts.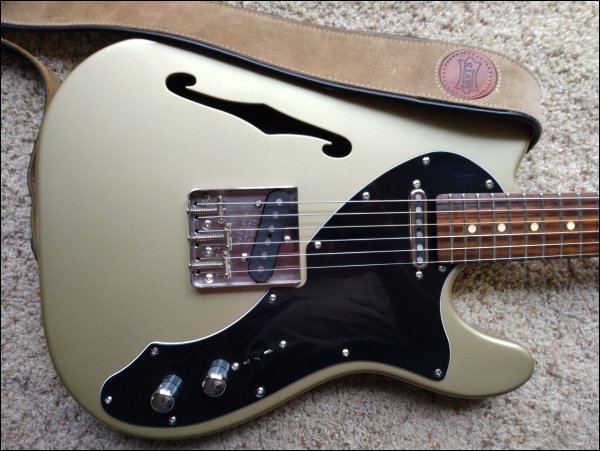 One recent acquisition I'm quite pleased with is a beautiful Shoreline Gold, 2007 Vintage Modified Fender Squire Thinline electric guitar. It's very close to being my dream guitar. I've always been drawn to hollow and semi-hollow electric guitars like this one. It has plenty of upgrades too, including aftermarket Hoagland pickups, genuine Fender tuners, Guyer compensated brass barrel saddles, and full size CTS pots. The stock white pick guard was replaced with a black one, which I think makes it look sharp. It sounds and plays great, too.
I'm going to make an effort to see and record some Red Rocks concerts this summer. Music is always such a pleasure, but the venue is equally important to the experience. I didn't see any shows there last year because of COVID19 concerns. This year I want to experience concerts again in that other worldly setting in Morrison, CO.
Lulu's Downstairs in Manitou Springs is becoming my favorite local venue. It's only about 15 minutes away. The sound and stage are good,
and I can make excellent recordings in there. I'd like to see and record more shows at Lulu's in 2022.
So, stay tuned for more reviews and live recordings from me this year. I'm optimistic and hoping we get a handle on the coronavirus and society gets closer to the old normal. I don't think it'll take much to make 2022 better than 2021.

All blog entries... | 2021 | 2020 | 2019 | 2018 | 2017 | 2016 | 2015 | 2014 | 2013 | 2012 |
© time between the notes... 2012-2022 All rights reserved.